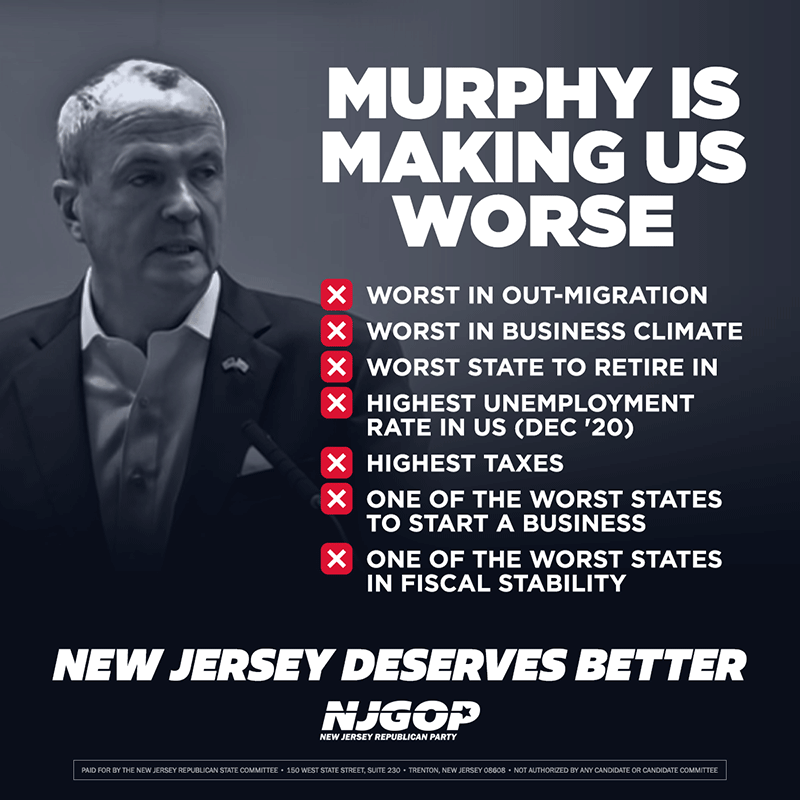 Senate Republicans to Launch Independent Hearings on Murphy Administration's Flawed COVID-19 Response
Senate Republicans will hold independent hearings into the Murphy Administration's flawed response to the COVID-19 pandemic to provide impacted residents and families the opportunity to share their stories and ongoing concerns.
 
Corrado Appalled by Murphy's Confidence in Firm Responsible for Thousands of Overdose Deaths
 Senator Kristin Corrado expressed outrage that the Murphy Administration continues to pay for COVID pandemic guidance from the same consulting firm that engineered a strategy for pharmaceutical companies to flood the market with addictive drugs.
 

'Completely unacceptable,' say District 30 lawmakers on 11-week unemployment benefit extension delays
 Sen. Bob Singer and Assemblymen Sean Kean, and Ned Thomson (R-Monmouth) are calling on Gov. Phil Murphy to implement the 11-week extension of unemployment benefits enacted by Congress in December as soon as possible. Claimants who exhausted benefits before Dec. 26 have not received any payments since that time.

Testa on A.G.'s Filing of Criminal Charges in Edna Mahan Incident
Sen. Michael Testa asked: How much evidence does Governor Murphy need that Commissioner Hicks is unfit to lead the New Jersey Department of Corrections?
  
Rescinding business restrictions does little to help a struggling industry, says DiMaso
 "Murphy's rollback of his ill-conceived restrictions is welcome news for our restaurants and small businesses, especially before Superbowl Sunday. We are moving in the right direction, but for far too many businesses it is too little too late. A third of our small businesses, including staples in our communities and restaurants that have been serving people for decades, are now permanently shuttered. So, while I thank 'King Murphy' for his crumbs, he needs to realize that these businesses are people's bread and butter" 
 
  Testa, Simonsen & McClellan: Time to Get Kids Back In the Classroom
As signs seem to suggest the State will be contending with the COVID pandemic well into the summer, the District 1 legislative team of Senator Michael Testa, Assemblyman Erik Simonsen, and Assemblyman Antwan McClellan today chided the Governor for delays in vaccinating teachers and getting students back to school.